Every saxophonist has been there, going on stage, ready to perform and the G# or C# key gets stuck in a crucial passage. A true nightmare! Luckily Key Leaves sax props offer a simple, yet highly effective solution!
Key Leaves is a family business founded by the American saxophonist Rulon Brown (www.keyleaves.com). He developed sax props to keep the Eb, C# and G# keys open and thus allowing clean air to go through the instrument. This helps dry the pads and the inside of the horn and thus prevents sticking and pad rot.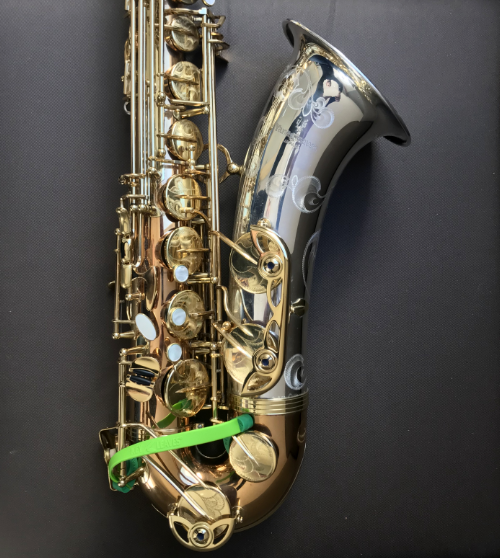 Key Leaves on my Yananagisawa T-WO32
I have been using the Key Leaves for quite some time now, and never had to worry about sticky keys anymore, which is a great feeling!
Putting them on your horn takes only a few seconds and you're good to go.
The fact that they are made of silicone, prevents any scratch, made sure it won't bend the keys and even absorbs shocks.
When developing the Key Leaves, they also made sure that it did not open the keys more than it would when playing your horn.
Another great thing is that they are a 'one-size' product so it fits on every saxophone.
"Key Leaves are a must have for every saxophonist! It's a simple, yet highly effective product, that prevents sticky keys and mold!" – Jeroen Vanbever
Still not convinced?
Key Leaves won "Best In Show" NAMM 2019, "Best Instrument Care Tool" award from Tools For Schools, Best of 2019 and Product of the Year (2018) by TheSaxophonist.org.
But there is more!
The developers torture tested two brand new Selmer alto saxophones for 12 months.
Two identical saxophones;
200+ hours of play each;
No swab cleaning;
And eating during play.
You can see the results in the videos below.
Convinced? I sure am and as I believe in the value of Key Leaves I am really proud to be an Official Key Leaves Artist and spread the word about this brilliant product!
"Key Leaves are simply a fantastic product and long overdue in our field! I use my set every day and I highly recommend them everywhere I go." – Timothy McAllister